Angels Hope - Global Kids: Creative Angels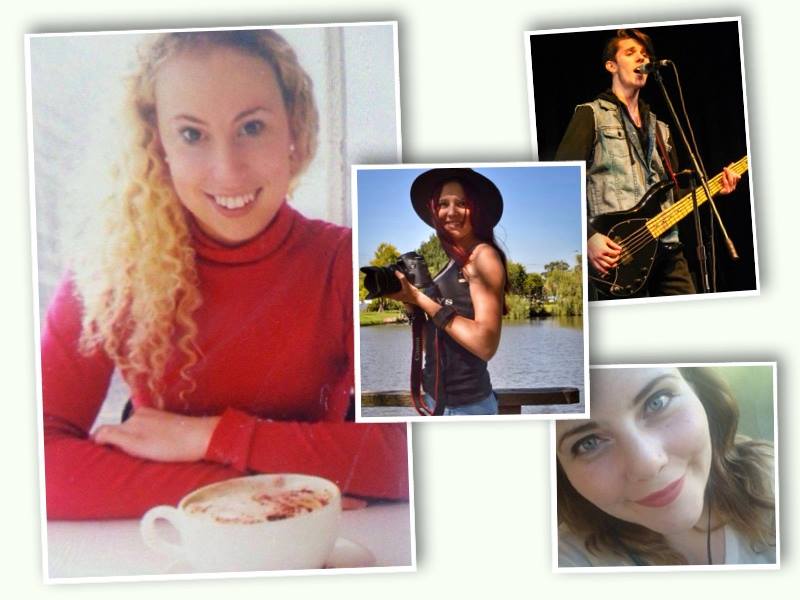 Hey everyone,
We would like to introduce ourselves as the youth committee as Angels Hope Creative Angels.
We're a team of four who have a deep passion for anti-bullying and prevention of bully-related suicide. We believe that creative arts can do wonders to everyone, and play a positive impact on our lives. Through Creative Angels, we will be requesting contributions of creativity including art, photography, film, drawings, writing, sport and music on a monthly basis to express thoughts and experiences of bullying. No one should experience the negative and destructive forces of bullying. However, if we all unite, we can fight this fight as one.
Our Youth Committee include:
CHLOE CUNNINGHAM
Chloe is Co-founder and also Youth Ambassador of Angels Hope. Chloe was the unfortunate target of bullying from the age 10 to 17 years, through school and her chosen sport. Chloe then became so critically ill she was paralysed from the waist down through fear for a six month period. Due to her own self determination and love of her family she overcame the horriffic symptoms which included tremors, electric shocks and wheelchair bound, Chloe had to learn to walk and, in particular a lot of mental strength had to to be found within herself. Chloe is currently studying Behavourial Science and in her second semester.
She will always be the voice for survivors. Chloe is inspirational to all at Angels Hope.
BELLAROSE
BellaRose is Youth Ambassador for Angels Hope and is passionate for the organisation and it's purpose after enjuring seven lengthy years of severe bullying resulting in hospitalisation. In healing Bella travelled near 100,000kms throughout Australia with a family member and now studies Film, Screen, Media and Photography. She also manages her business BellaRose Film and Photography. Bella has an interest in cars/driving, Outback, Australian history and spending quality time with her horse.
WILLIAM ROGAN-JOHNSTONE
William Rogan-Johnstone is Trainee National Strategy & Events Manager for Angels Hope and is proud to be apart of the organisation after experiencing depression and dealing with bullying in high school. William currently studies Film, Screen and Media and, photography and was originally lead vocalist in a rock band for several years. In his spare time, William enjoys acting/theatre, singing/music, reading, cooking, and hiking in the outdoors.
OLIVIA GILLES
Olivia Gilles is Trainee National Events Coordinator. She is passionate about bullying after witnessing the dibilitating effects of bullying on her close friend over a long period of time. Olivia is a qualified make-up artist and currently studying Events Management. She enjoys helping others through charity work, and has a great love for music.
Overseeing Creative Angels, we have the team of the Guardians of the Angels, a group of people who have achieved success and determination, such as Authors, musicians/bands, tv celebrities/actors, gamers/youtuber/cosplayer, professionals sportsmen/women, martial artists and many other occupants. For more information, go to our facebook page at https://www.facebook.com/AngelsHopesCreativeAngels/
Chloe, Bella, William, Olivia.